We present: Ciro
Maximise your hose package lifetime
Introducing Our New Swivels
Dedicated for material handling
New Cooperation
Grippers from Omil
Improving Robot Flexability
Robot System Products
Trueconnect™
Unique Precision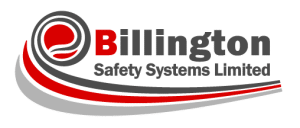 Billington Safety Systems are the sole UK Distributor for Robot System Products who are based in Sweden, we have been working closely with them now for a number of years.
RSP supply a wide variety of products for the robotics industry, the peripherals dress your robot for work, with most of the items bolting directly to your robot they are a very simple and cost effective, whilst offering high quality, flexibility and functionality. The tool changers are designed to maximize the flexibility and reliability of your robot fleet. Robustness and high safety are combined with low weight and compactness. Depending on model and options, electrical signals, weld and servo power, data, water and compressed air are transferred from the robot side to the tool.
The patented locking device TrueConnect™ has a minimum of play and gives a practically, through the lifespan, absolute positioning repeatability. With its unique design, it doesn't require exact positioning when docking with different tools. The principle behind the locking mechanism is the uniform distribution of load, obtained by pressing looking balls into spherical grooves. In consequence, substantially larger positional tolerances are accepted during docking. The wide range of products that we supply are available for all major robot brands and come with complete documentation.